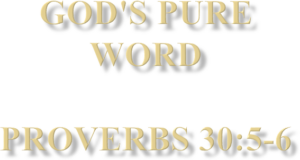 What does the word pure mean?
From Webster it means unmixed with any other matter
The word "pure" might be better translated "refined." Its background is putting something to the test and it works. The advice has been refined; it is as pure as it can be. Then he adds, "Don't add to it, and it will be a shield to you."
Why will it protect us?
As for God, His way is perfect; the word of the LORD is proven [similar to refined, tested, pure]; He is a shield to all who trust in Him. (Psalm 18:30)
Protection from what? We need protection from all of the things that bondage and sin imply. If we lack the refined, pure, unadulterated Word of God, the only alternative is the word of men! Nowhere in God's Word does He says the word of men is pure, true, or refined. The word of men is limited to the experiences of men and by their prejudices. Even though a man may try, with all sincerity, to report something as honestly and accurately as he can, he does not have the breadth of experience or the unprejudiced mind of God.
If we trust the words of men in place of the words of God, we will not be protected from bondage. We will slide back into it.
---
Please Take The following Quiz

Please Use The KJV Version
Capitalize All The Names and Places in your answers