Online
The Pharisees and the adulteress. (Verse 1-11.)
Christ's discourse with the Pharisees. (Verse 12-59.)
---
1 Jesus went unto the mount of Olives.
2 And early in the morning he came again into the temple, and all the people came unto him; and he sat down, and taught them.
3 And the scribes and Pharisees brought unto him a woman taken in adultery; and when they had set her in the midst,
4 They say unto him, Master, this woman was taken in adultery, in the very act.
5 Now Moses in the law commanded us, that such should be stoned: but what sayest thou?
[Deut 22:24]
the law commanded that both the woman AND the man be executed for adultery (Leviticus 20:10 – "And the man that committeth adultery with another man's wife, even he that committeth adultery with his neighbour's wife, the adulterer and the adulteress shall surely be put to death.")  The man involved is noticeably absent.
6 This they said, tempting him, that they might have to accuse him. But Jesus stooped down, and with his finger wrote on the ground, as though he heard them not.
the law said the woman must be stoned to death.  The Roman government prohibited the Jews from executing people without their permission (note John 18:31 when the Jews wished to execute Jesus).  It seemed to these scribes and Pharisees that they had Jesus trapped. If Jesus said "Stone her" than he would be breaking the civil law; if Jesus said "Let her go" he would be breaking God's law.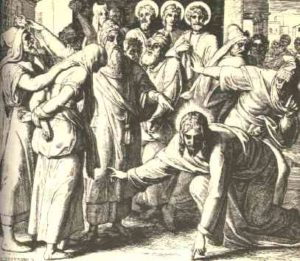 7 So when they continued asking him, he lifted up himself, and said unto them, He that is without sin among you, let him first cast a stone at her.
"let him first cast a stone at her."  It was the person who witnessed the crime that was supposed to initiate the execution. Deuteronomy 17:7 said, "The hands of the witnesses shall be first upon him to put him to death, and afterward the hands of all the people. So thou shalt put the evil away from among you."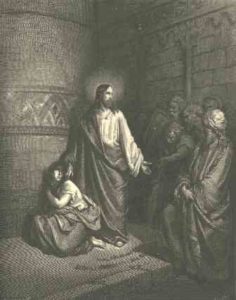 8 And again he stooped down, and wrote on the ground.
9 And they which heard it, being convicted by their own conscience, went out one by one, beginning at the eldest, even unto the last: and Jesus was left alone, and the woman standing in the midst.
10 When Jesus had lifted up himself, and saw none but the woman, he said unto her, Woman, where are those thine accusers? hath no man condemned thee?
11 She said, No man, Lord. And Jesus said unto her, Neither do I condemn thee: go, and sin no more.
These eleven verses along with the last verse in chapter seven (vs. 53) come under frequent attack by the "experts."  The New International Version of the Bible puts this passage in brackets and says, "The earliest and most reliable manuscripts and other ancient witnesses do not have John 7:53-8:11."  The New English "Bible" simply leaves the entire passage out and prints it as a footnote at the end of the book of John.  Throwing doubt upon the words of God is NOT the work of the Holy Spirit.  It is the devil who said to Eve in the Garden of Eden, "Yea, hath God said…?"  If the student will take the time to investigate the matter on his own, he or she will find that there are MANY early, reliable manuscripts and MANY ancient witnesses that DO attest to the fact that this passage DOES belong in your Bible.  In fact, it is only a handful of the very earliest manuscripts that leave the passage out – manuscripts that are very clearly corrupted in literally hundreds of passages.  Despite the very obvious poor nature of these manuscripts, the "experts" (many of them not Christians) continue to use them because of their age – older is however not always better.  The manuscripts and Bibles that God has blessed throughout church history in all of the great revivals, missionary endeavours and in the lives of millions of believers contain John 7:53-8:11.  If the student uses an English Bible that leaves verses out or throws doubt upon the words of God, he or she would do well to get rid of it and use the English Bible that God has blessed and that always honours his words.    This is not an insignificant issue that matters little.  Psalm 138:2 says of God, "…thou hast magnified thy word above all thy name."  If the Bible has been exalted by God himself above his own name, it is worth your effort to make sure you have the right one.
Jesus could let the woman go without breaking God's law because there were no longer any witnesses.  Jesus, because he is God, has the power to forgive sins, which power he exercised in this case.  This story is a beautiful illustration of what happens to the sinner at salvation.  All of us deserve to die in hell for our sins and yet God in his mercy forgives us when we repent and trust in Christ alone.
Under the law they were supposed to bring both guilty parties to be judged and condemned, but the scribes and Pharisees weren't really caring about this woman and what she had done as much as they we concerned about getting rid of the trouble maker Jesus who was making a lot of disciples.
They were jealous of Jesus, and they wanted to get Jesus to speak contrary to Moses' lay so they could get more Jews on their side in their attempt to get rid of him.
12 Then spake Jesus again unto them, saying, I am the light of the world: he that followeth me shall not walk in darkness, but shall have the light of life.
[Prov 4:18, Matt 5:14, John 9:5, John 12:36, Phil 2:15]
13 The Pharisees therefore said unto him, Thou bearest record of thyself; thy record is not true.
14 Jesus answered and said unto them, Though I bear record of myself, yet my record is true: for I know whence I came, and whither I go; but ye cannot tell whence I come, and whither I go.
[Rev 1:5]
15 Ye judge after the flesh; I judge no man.
16 And yet if I judge, my judgment is true: for I am not alone, but I and the Father that sent me.
17 It is also written in your law, that the testimony of two men is true.
[Deut 19:15 Mt 18:16 2nd Cor 13:1 1st Tim 5:19]
18 I am one that bear witness of myself, and the Father that sent me beareth witness of me.
19 Then said they unto him, Where is thy Father? Jesus answered, Ye neither know me, nor my Father: if ye had known me, ye should have known my Father also.
20 These words spake Jesus in the treasury, as he taught in the temple: and no man laid hands on him; for his hour was not yet come.
the "treasury" was a particular courtyard of the temple
21 Then said Jesus again unto them, I go my way, and ye shall seek me, and shall die in your sins: whither I go, ye cannot come.
notice how Jesus himself says that there are some people who will die in their sins and CANNOT go to heaven.  The teaching that God loves everyone and that all will go to heaven is a false doctrine that contradicts the very words of Christ.  One who dies without having their sins forgiven cannot enter heaven. You either die "in Christ" or "in your sins."
22 Then said the Jews, Will he kill himself? because he saith, Whither I go, ye cannot come.
23 And he said unto them, Ye are from beneath; I am from above: ye are of this world; I am not of this world.
24 I said therefore unto you, that ye shall die in your sins: for if ye believe not that I am he, ye shall die in your sins.
25 Then said they unto him, Who art thou? And Jesus saith unto them, Even the same that I said unto you from the beginning.
26 I have many things to say and to judge of you: but he that sent me is true; and I speak to the world those things which I have heard of him.
27 They understood not that he spake to them of the Father.
28 Then said Jesus unto them, When ye have lifted up the Son of man, then shall ye know that I am he, and that I do nothing of myself; but as my Father hath taught me, I speak these things.
"lifted up" – compare with John 3:14
29 And he that sent me is with me: the Father hath not left me alone; for I do always those things that please him.
[Psa 40:8, Matt 3:15, Matt 5:17, John 4:34, Heb 10:7, Heb 10:9]
30 As he spake these words, many believed on him.
31 Then said Jesus to those Jews which believed on him, If ye continue in my word, then are ye my disciples indeed;
many believers are not "disciples" of Christ.  A "disciple" is a follower.  Many people repent and believe in Christ and then do not "continue in his word."  Such people do not pray, read their Bibles, go to church, or follow the commands Christ gave in his word.
32 And ye shall know the truth, and the truth shall make you free.
This does not sound like salvation by grace through faith alone, it sounds like enduring unto the end in order to be saved, because that's what it was.
We live in a different dispensation than they did, and we were never under the law, we in the body of Christ today have always been under grace.
33 They answered him, We be Abraham's seed, and were never in bondage to any man: how sayest thou, Ye shall be made free?
[Matt 3:9, Luke 3:8, Luke 16:24, John 8:39, John 8:53, Rom 9:7]
34 Jesus answered them, Verily, verily, I say unto you, Whosoever committeth sin is the servant of sin.
before a person is born again, they are a servant (or slave) of sin.  At salvation, Jesus sets a person "free" from their slave master of sin and becomes their new Master.  When a Christian sins, they are foolishly going back to serve a master they have been freed from.  Read Romans 6:11-19.
35 And the servant abideth not in the house for ever: but the Son abideth ever.
36 If the Son therefore shall make you free, ye shall be free indeed.
[Rom 6:18, 1st Cor 7:22]
37 I know that ye are Abraham's seed; but ye seek to kill me, because my word hath no place in you.
38 I speak that which I have seen with my Father: and ye do that which ye have seen with your father.
39 They answered and said unto him, Abraham is our father. Jesus saith unto them, If ye were Abraham's children, ye would do the works of Abraham.
[Matt 3:9, Luke 3:8, Luke 16:24, John 8:33, John 8:53, Rom 9:7, Rom 9:6, Rev 2:9, Rev 3:9]
40 But now ye seek to kill me, a man that hath told you the truth, which I have heard of God: this did not Abraham.
41 Ye do the deeds of your father. Then said they to him, We be not born of fornication; we have one Father, even God.
42 Jesus said unto them, If God were your Father, ye would love me: for I proceeded forth and came from God; neither came I of myself, but he sent me.
it was Jesus' human nature that "proceeded forth and came from God" via the virgin birth.  Jesus has always been God.  See 1:1-3.
43 Why do ye not understand my speech? even because ye cannot hear my word.
44 Ye are of your father the devil, and the lusts of your father ye will do. He was a murderer from the beginning, and abode not in the truth, because there is no truth in him. When he speaketh a lie, he speaketh of his own: for he is a liar, and the father of it.
[Gen 3:15, Matt 13:38, Acts 13:10, 2nd Peter 2:14, 1st John 3:10, Gen 3:1, Matt 3:7, Matt 12:34, Matt 23:33, Luke 3:7, Rev 20:2]
the person who has been saved and become a child of God (John 1:12) by virtue of being born again, makes God his or her Father.  The person who has never been saved has the devil as their father .  These unsaved people are called "his own" in the verse.
45 And because I tell you the truth, ye believe me not.
46 Which of you convinceth me of sin? And if I say the truth, why do ye not believe me?
47 He that is of God heareth God's words: ye therefore hear them not, because ye are not of God.
48 Then answered the Jews, and said unto him, Say we not well that thou art a Samaritan, and hast a devil?
49 Jesus answered, I have not a devil; but I honour my Father, and ye do dishonour me.
50 And I seek not mine own glory: there is one that seeketh and judgeth.
51 Verily, verily, I say unto you, If a man keep my saying, he shall never see death.
"never see death" – obviously a reference to the eternal, second death  (Revelation 20:14-15 – "And death and hell were cast into the lake of fire. This is the second death. And whosoever was not found written in the book of life was cast into the lake of fire.").
52 Then said the Jews unto him, Now we know that thou hast a devil. Abraham is dead, and the prophets; and thou sayest, If a man keep my saying, he shall never taste of death.
53 Art thou greater than our father Abraham, which is dead? and the prophets are dead: whom makest thou thyself?
[Matt 3:9, Luke 3:8, Luke 16:24, John 8:33, John 8:39, Rom 9:7]
54 Jesus answered, If I honour myself, my honour is nothing: it is my Father that honoureth me; of whom ye say, that he is your God:
55 Yet ye have not known him; but I know him: and if I should say, I know him not, I shall be a liar like unto you: but I know him, and keep his saying.
56 Your father Abraham rejoiced to see my day: and he saw it, and was glad.
57 Then said the Jews unto him, Thou art not yet fifty years old, and hast thou seen Abraham?
58 Jesus said unto them, Verily, verily, I say unto you, Before Abraham was, I am.
[Exo 3:14, Isa 43:13, Col 1:17, Rev 1:4]
The term "I am" is one of the names of Jehovah God of the Old Testament.  In Exodus 3:13-14 one can read, "And Moses said unto God, Behold, when I come unto the children of Israel, and shall say unto them, The God of your fathers hath sent me unto you; and they shall say to me, What is his name? what shall I say unto them? And God said unto Moses, I AM THAT I AM: and he said, Thus shalt thou say unto the children of Israel, I AM hath sent me unto you."  Jesus here is making the claim in no uncertain terms to be the God of the OT.  The reaction of the unbelievers in verse 59 shows that they fully understood what he was claiming to be.
The Jehovah's Witnesses group claim that Jesus was a lesser god created by the Father.  Their translation of the Bible supports their false doctrine by saying, "Before Abraham came into existence, I have been."
59 Then took they up stones to cast at him: but Jesus hid himself, and went out of the temple, going through the midst of them, and so passed by.
What an amazing discourse Jesus had with these people, some believers from the beginning, others became believers, while yet others, many others turned away from Jesus' words and tried to kill him because God's word was not in them.
---
Commentary by Matthew Henry, 1710.
Verse 1-11 – Christ neither found fault with the law, nor excused the prisoner's guilt; nor did he countenance the pretended zeal of the Pharisees. Those are self-condemned who judge others, and yet do the same thing. All who are any way called to blame the faults of others, are especially concerned to look to themselves, and keep themselves pure. In this matter Christ attended to the great work about which he came into the world, that was, to bring sinners to repentance; not to destroy, but to save. He aimed to bring, not only the accused to repentance, by showing her his mercy, but the prosecutors also, by showing them their sins; they thought to insnare him, he sought to convince and convert them. He declined to meddle with the magistrate's office. Many crimes merit far more severe punishment than they meet with; but we should not leave our own work, to take that upon ourselves to which we are not called. When Christ sent her away, it was with this caution, Go, and sin no more. Those who help to save the life of a criminal, should help to save the soul with the same caution. Those are truly happy, whom Christ does not condemn. Christ's favour to us in the forgiveness of past sins should prevail with us, Go then, and sin no more.
Verse 12-16 – Christ is the Light of the world. God is light, and Christ is the image of the invisible God. One sun enlightens the whole world; so does one Christ, and there needs no more. What a dark dungeon would the world be without the sun! So would it be without Jesus, by whom light came into the world. Those who follow Christ shall not walk in darkness. They shall not be left without the truths which are necessary to keep them from destroying error, and the directions in the way of duty, necessary to keep them from condemning sin.
Verse 17-20 – If we knew Christ better, we should know the Father better. Those become vain in their imaginations concerning God, who will not learn of Christ. Those who know not his glory and grace, know not the Father that sent him. The time of our departure out of the world, depends upon God. Our enemies cannot hasten it any sooner, nor can our friends delay it any longer, than the time appointed of the Father. Every true believer can look up and say with pleasure, My times are in thy hand, and better there than in my own. To all God's purposes there is a time.
Verse 21-29 – Those that live in unbelief, are for ever undone, if they die in unbelief. The Jews belonged to this present evil world, but Jesus was of a heavenly and Divine nature, so that his doctrine, kingdom, and blessings, would not suit their taste. But the curse of the law is done away to all that submit to the grace of the gospel. Nothing but the doctrine of Christ's grace will be an argument powerful enough, and none but the Spirit of Christ's grace will be an agent powerful enough, to turn us from sin to God; and that Spirit is given, and that doctrine is given, to work upon those only who believe in Christ. Some say, Who is this Jesus? They allow him to have been a Prophet, an excellent Teacher, and even more than a creature; but cannot acknowledge him as over all, God blessed for evermore. Will not this suffice? Jesus here answers the question. Is this to honour him as the Father? Does this admit his being the Light of the world, and the Life of men, one with the Father? All shall know by their conversion, or in their condemnation, that he always spake and did what pleased the Father, even when he claimed the highest honours to himself.
Verse 30-36 – Such power attended our Lord's words, that many were convinced, and professed to believe in him. He encouraged them to attend his teaching, rely on his promises, and obey his commands, notwithstanding all temptations to evil. Thus doing, they would be his disciples truly; and by the teaching of his word and Spirit, they would learn where their hope and strength lay. Christ spoke of spiritual liberty; but carnal hearts feel no other grievances than those that molest the body, and distress their worldly affairs. Talk to them of their liberty and property, tell them of waste committed upon their lands, or damage done to their houses, and they understand you very well; but speak of the bondage of sin, captivity to Satan, and liberty by Christ; tell of wrong done to their precious souls, and the hazard of their eternal welfare, then you bring strange things to their ears. Jesus plainly reminded them, that the man who practised any sin, was, in fact, a slave to that sin, which was the case with most of them. Christ in the gospel offers us freedom, he has power to do this, and those whom Christ makes free are really so. But often we see persons disputing about liberty of every kind, while they are slaves to some sinful lust.
Verse 37-40 – Our Lord opposed the proud and vain confidence of these Jews, showing that their descent from Abraham could not profit those of a contrary spirit to him. Where the word of God has no place, no good is to be expected; room is left there for all wickedness. A sick person who turns from his physician, and will take neither remedies nor food, is past hope of recovery. The truth both heals and nourishes the hearts of those who receive it. The truth taught by philosophers has not this power and effect, but only the truth of God. Those who claim the privileges of Abraham, must do Abraham's works; must be strangers and sojourners in this world; keep up the worship of God in their families, and always walk before God.
Verse 41-47 – Satan prompts men to excesses by which they murder themselves and others, while what he puts into the mind tends to ruin men's souls. He is the great promoter of falsehood of every kind. He is a liar, all his temptations are carried on by his calling evil good, and good evil, and promising freedom in sin. He is the author of all lies; whom liars resemble and obey, with whom all liars shall have their portion for ever. The special lusts of the devil are spiritual wickedness, the lusts of the mind, and corrupt reasonings, pride and envy, wrath and malice, enmity to good, and enticing others to evil. By the truth, here understand the revealed will of God as to the salvation of men by Jesus Christ, the truth Christ was now preaching, and which the Jews opposed.
Verse 48-53 – Observe Christ's disregard of the applause of men. those who are dead to the praises of men can bear their contempt. God will seek the honour of all who do not seek their own. In these verses we have the doctrine of the everlasting happiness of believers. We have the character of a believer; he is one that keeps the sayings of the Lord Jesus. And the privilege of a believer; he shall by no means see death for ever. Though now they cannot avoid seeing death, and tasting it also, yet they shall shortly be where it will be no more forever, Exodus 14:13.
Verse 54-59 – Christ and all that are his, depend upon God for honour. Men may be able to dispute about God, yet may not know him. Such as know not God, and obey not the gospel of Christ, are put together, 2nd Thessalonians 1:8. All who rightly know anything of Christ, earnestly desire to know more of him. Those who discern the dawn of the light of the Sun of Righteousness, wish to see his rising. "Before Abraham was, I AM." This speaks Abraham a creature, and our Lord the Creator; well, therefore, might he make himself greater than Abraham. I AM, is the name of God, Exodus 3:14. it speaks his self-existence; he is the First and the Last, ever the same, Revelation 1:8. Thus he was not only before Abraham, but before all worlds, Proverbs 8:23. John 1:1. As Mediator, he was the appointed Messiah, long before Abraham; the Lamb slain from the foundation of the world, Revelation 13:8. The Lord Jesus was made of God Wisdom, Righteousness, Sanctification, and Redemption, to Adam, and Abel, and all that lived and died by faith in him, before Abraham. The Jews were about to stone Jesus for blasphemy, but he withdrew; by his miraculous power he passed through them unhurt. Let us stedfastly profess what we know and believe concerning God; and if heirs of Abraham's faith, we shall rejoice in looking forward to that day when the Saviour shall appear in glory, to the confusion of his enemies, and to complete the salvation of all who believe in him.