Outline
Christ's departure into Galilee. (Verse 1-3.)
His discourse with the Samaritan woman. (Verse 4-26.)
The effects of Christ's conversation with the woman of Samaria. (Verse 27-42.)
Christ heals the nobleman's son. (Verse 43-54.)
---
1 When therefore the Lord knew how the Pharisees had heard that Jesus made and baptized more disciples than John,
2 (Though Jesus himself baptized not, but his disciples,)
Why is it that Jesus did not baptize with water? Because he was to baptize believing Israel with the Holy Ghost and not with water.
Today there is all kinds of confusion over the issue of baptism and if Jesus would have done both water and Spirit baptism the amount of confusion would have probably doubled.
We would have twice as many-man made denominations than we do already.
3 He left Judaea, and departed again into Galilee.
4 And he must needs go through Samaria.
Samaria was a country just north of Judea.  The Samaritans were a cross-breed mix of Jews and Gentiles (non-Jews).  Because no Samaritan was a full-blooded "pure" Jew, the Jews shunned these people and would ordinarily have "no dealings" with them (see verse nine).  Note in John 8:48 how the word "Samaritan" is used by the Jews as a derogatory term concerning Jesus.
Jesus left Judaea for two reasons, first because the Pharisees who were afraid of the numbers of followers that John the Baptist had listening to him, were now even more nervous concerning the larger number of people that were becoming disciples of Jesus and being baptized by him.
The second reason was because Jesus had a divine appointment with a Samaritan woman in a city which would last for two days and many would be converted. The remnants of this encounter still live in this same city to this day.
5 Then cometh he to a city of Samaria, which is called Sychar, near to the parcel of ground that Jacob gave to his son Joseph.
6 Now Jacob's well was there. Jesus therefore, being wearied with his journey, sat thus on the well: and it was about the sixth hour.
according to Jewish time, the sixth hour was noon.
7 There cometh a woman of Samaria to draw water: Jesus saith unto her, Give me to drink.
[Gen 24:17]
8 (For his disciples were gone away unto the city to buy meat.)
[meat – can refer to meat as we know it or can be a general reference to any type of food]
9 Then saith the woman of Samaria unto him, How is it that thou, being a Jew, askest drink of me, which am a woman of Samaria? for the Jews have no dealings with the Samaritans.
[2nd Kings 17:24, Matt 10:5, Acts 8:25]
10 Jesus answered and said unto her, If thou knewest the gift of God, and who it is that saith to thee, Give me to drink; thou wouldest have asked of him, and he would have given thee living water.
[Exod 17:6, Num 20:11, Psa 78:15, John 7:37, 1st Cor 10:4, Rev 22:17]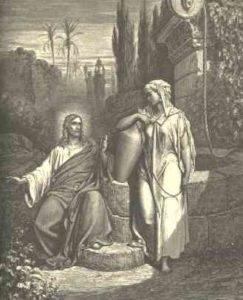 11 The woman saith unto him, Sir, thou hast nothing to draw with, and the well is deep: from whence then hast thou that living water?
the woman confuses this "living water" that Jesus offered with the physical water down in the well in much the same way that Nicodemus confused physical birth and spiritual birth.
12 Art thou greater than our father Jacob, which gave us the well, and drank thereof himself, and his children, and his cattle?
13 Jesus answered and said unto her, Whosoever drinketh of this water shall thirst again:
14 But whosoever drinketh of the water that I shall give him shall never thirst; but the water that I shall give him shall be in him a well of water springing up into everlasting life.
whoever partakes of the spiritual, "living water" that Jesus offers will NEVER thirst again.  This shows that once a person is saved, they are saved forever – salvation cannot be lost.  Jesus often compared "believing" to the idea of "drinking" living water.  Note how Jesus compares the word "drink" to "believeth on me" in John 7:37-38.  In John 7:39 Jesus further defines this living water as the Holy Spirit.
15 The woman saith unto him, Sir, give me this water, that I thirst not, neither come hither to draw.
16 Jesus saith unto her, Go, call thy husband, and come hither.
Let's talk about this well for a moment, every other commentary or sermon on the woman at the well miss the whole point, the woman was not the issue, the well and the water were.
Be honest with me, have you ever heard that because it was the sixth hour of the day, Noon, that this adulterous woman could only come at that time to draw water?
Of course you have because they make it mostly about the woman and how Jesus will even save a prostitute at a well at the hottest time of the day.
There is a deeper meaning concerning Israel and all of us and that is that it is the word of God, represented by the water, which comes out of the well, which is Christ, that will give eternal life to all who receive it, i.e. drink from the well.
This particular well, was the well that Jacob drank of ,and his children (All the children of Israel). That would mean Jacob who was called Israel before he possessed this land had twelve sons, one of them, his favorite, was called Joseph and it was he that got this land given to him while he was still a young boy.
When Joseph was seventeen he was sold into slavery by his older brothers who had been each given parcels of land by their father previously.  The parcel of land that Joseph was to receive was the same land that Jacob (Israel) lived on.
That meant the very spot where all of his brothers were raised at in their mothers tents was given unto Joseph prior to his even having any wife or children. This must have infuriated his brothers.
Why this well? Was it just a coincidence that Jesus just happened to come to this well at this particular time and meet this particular woman? No! It was no coincidence.
The well was the center of the large family, water represented life. Without it one would die very quickly. Jesus said that if someone were to drink of the water that he had to give they would never thirst again.
Of course he was not speaking of literal water here. He was referencing what God said to the prophet Isaiah hundreds of years earlier:
Isaiah 55:1 Ho, every one that thirsteth, come ye to the waters, and he that hath no money; come ye, buy, and eat; yea, come, buy wine and milk without money and without price. 2 Wherefore do ye spend money for that which is not bread? and your labour for that which satisfieth not? hearken diligently unto me, and eat ye that which is good, and let your soul delight itself in fatness. 3 Incline your ear, and come unto me: hear, and your soul shall live; and I will make an everlasting covenant with you, even the sure mercies of David. 4 Behold, I have given him for a witness to the people, a leader and commander to the people. 5 Behold, thou shalt call a nation that thou knowest not, and nations that knew not thee shall run unto thee because of the LORD thy God, and for the Holy One of Israel; for he hath glorified thee. 6 Seek ye the LORD while he may be found, call ye upon him while he is near: 7 Let the wicked forsake his way, and the unrighteous man his thoughts: and let him return unto the LORD, and he will have mercy upon him; and to our God, for he will abundantly pardon. 8 For my thoughts are not your thoughts, neither are your ways my ways, saith the LORD. 9 For as the heavens are higher than the earth, so are my ways higher than your ways, and my thoughts than your thoughts. 10 For as the rain cometh down, and the snow from heaven, and returneth not thither, but watereth the earth, and maketh it bring forth and bud, that it may give seed to the sower, and bread to the eater: 11 So shall my word be that goeth forth out of my mouth: it shall not return unto me void, but it shall accomplish that which I please, and it shall prosper in the thing whereto I sent it. 12 For ye shall go out with joy, and be led forth with peace: the mountains and the hills shall break forth before you into singing, and all the trees of the field shall clap their hands. 13 Instead of the thorn shall come up the fir tree, and instead of the brier shall come up the myrtle tree: and it shall be to the LORD for a name, for an everlasting sign that shall not be cut off.
Jesus' word is the water of life, that if a man, or woman, partake of, drink spiritually speaking, they will never thirst again because they have eternal life.
You would have never gotten that by reading just John chapter four by itself because your thoughts are not God's thoughts and his are not yours. His are higher than ours. Isaiah 55 was a prophecy that his word would be like life giving water.
17 The woman answered and said, I have no husband. Jesus said unto her, Thou hast well said, I have no husband:
18 For thou hast had five husbands; and he whom thou now hast is not thy husband: in that saidst thou truly.
19 The woman saith unto him, Sir, I perceive that thou art a prophet.
20 Our fathers worshipped in this mountain; and ye say, that in Jerusalem is the place where men ought to worship.
once this woman perceived that Jesus was a prophet, she tried to change the subject and get him to settle the age old dispute of where the correct place to worship was.  Because the Samaritans were shunned by the Jews, they refused to go down to Jerusalem to worship at the temple, and instead made their own place to worship there in Samaria.
21 Jesus saith unto her, Woman, believe me, the hour cometh, when ye shall neither in this mountain, nor yet at Jerusalem, worship the Father.
22 Ye worship ye know not what: we know what we worship: for salvation is of the Jews.
23 But the hour cometh, and now is, when the true worshippers shall worship the Father in spirit and in truth: for the Father seeketh such to worship him.
24 God is a Spirit: and they that worship him must worship him in spirit and in truth.
the only acceptable worship to God is that worship done "in spirit and in truth."  Worship directed at God that is done outside of the truth of God's word is wasted activity that God will not accept.  Even worship that appears to be done in the spirit (lots of emotion, operating in the gifts, etc.) is not acceptable to God if it does not conform to the truth of his word.
25 The woman saith unto him, I know that Messias cometh, which is called Christ: when he is come, he will tell us all things.
26 Jesus saith unto her, I that speak unto thee am he.
Jesus plainly identifies himself as "Messias", the Christ.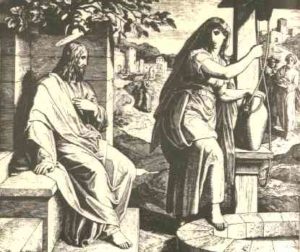 27 And upon this came his disciples, and marvelled that he talked with the woman: yet no man said, What seekest thou? or, Why talkest thou with her?
28 The woman then left her waterpot, and went her way into the city, and saith to the men,
29 Come, see a man, which told me all things that ever I did: is not this the Christ?
30 Then they went out of the city, and came unto him.
   Why does Jesus plainly tell this Samaritan adulteress that he is the Messiah, and yet he expects Israel to recognize him by his deeds?
Because Israel should recognize him that way because salvation is of the Jews as they alone had the oracles of God (his word).
The Jews have the word of God, and they should know it and have recognized him (the Messiah) immediately after he showed them all the kingdom signs that have been prophesied that he would do.
They did not, because his word is far from them. The Samaritan woman had very little chance of recognizing the Messiah of Israel unless he just came out and told her who he was, and he did.
31 In the mean while his disciples prayed him, saying, Master, eat.
"prayed" is Old English for "requested."  Many of the people who claim that the Bible needs to be updated because of supposedly "hard to understand" words, simply do not make the effort to look words up in dictionaries.  In this case the meaning of the word "prayed" is clear from the context.
32 But he said unto them, I have meat to eat that ye know not of.
33 Therefore said the disciples one to another, Hath any man brought him ought to eat?
34 Jesus saith unto them, My meat is to do the will of him that sent me, and to finish his work.
[Psa 40:8, Matt 3:15, Matt 5:17, John 8:29, Heb 10:7, Heb 10:9, Matt 14:15]
[meat – can refer to meat as we know it or can be a general reference to any type of food]
35 Say not ye, There are yet four months, and then cometh harvest? behold, I say unto you, Lift up your eyes, and look on the fields; for they are white already to harvest.
[Matt 9:37, Luke 10:2]
36 And he that reapeth receiveth wages, and gathereth fruit unto life eternal: that both he that soweth and he that reapeth may rejoice together.
in God's spiritual harvest field of souls, some of his labourers plant the seed (distribute Bibles, tracts, preach, witness to people) and others harvest (actually show people how to be saved and win them to Christ).  Both will receive a reward from God for their faithful service.  Paul said in I Corinthians 3:6,  "I have planted, Apollos watered; but God gave the increase."
37 And herein is that saying true, One soweth, and another reapeth.
38 I sent you to reap that whereon ye bestowed no labour: other men laboured, and ye are entered into their labours.
As the woman at the well leaves to gather her fellow Samaritans, Jesus' disciples return and while trying to talk Jesus into a little food, Jesus reminds them that man doesn't live by bread alone, but by every word that proceedeth out of the mouth of God.
The disciples were confused, and so Jesus begins to use an illustration of sowing and reaping to get a point across to them that he had more important things to think about than his stomach at the moment.
Jesus uses the most interesting of illustrations after just talking with a Samaritan woman. After having told her who he was, she immediately goes back to her Samaritan city with the good news of the Messiah, and now they are returning in such a massive number that Jesus compares the number of Samaritans returning with a field white already to harvest.
Jesus had his meat already, he was leading a Samaritan harlot to himself. She along with the other Samaritans were the meat that Jesus had that his disciples didn't understand. Jesus went to Samaria that day to do the will of the Father.
39 And many of the Samaritans of that city believed on him for the saying of the woman, which testified, He told me all that ever I did.
Why did Jesus tell his 12 apostles to not go into any city of the Samaritans in Matthew 10:5-7 but only to the lost sheep of the house of Israel, and here he goes and spends two days with the Samaritans and many believe on him?   The key to the answer to that question is found at the end of this chapter.
40 So when the Samaritans were come unto him, they besought him that he would tarry with them: and he abode there two days.
41 And many more believed because of his own word;
42 And said unto the woman, Now we believe, not because of thy saying: for we have heard him ourselves, and know that this is indeed the Christ, the Saviour of the world.
43 Now after two days he departed thence, and went into Galilee.
[Matt 4:12, Mark 1:14, Luke 4:14]
44 For Jesus himself testified, that a prophet hath no honour in his own country.
[Matt 13:57, Luke 4:24]
45 Then when he was come into Galilee, the Galilaeans received him, having seen all the things that he did at Jerusalem at the feast: for they also went unto the feast.
"all the things that he did at Jerusalem" a reference to Christ's cleansing of the temple in John 2:13-21 and his miracles as recorded in 2:23.
46 So Jesus came again into Cana of Galilee, where he made the water wine. And there was a certain nobleman, whose son was sick at Capernaum.
47 When he heard that Jesus was come out of Judaea into Galilee, he went unto him, and besought him that he would come down, and heal his son: for he was at the point of death.
48 Then said Jesus unto him, Except ye see signs and wonders, ye will not believe.
Christ severely reprimands those who require signs and wonders (ie. miracles) before they will believe.
49 The nobleman saith unto him, Sir, come down ere my child die.
50 Jesus saith unto him, Go thy way; thy son liveth. And the man believed the word that Jesus had spoken unto him, and he went his way.
this nobleman was blessed for believing "the word that Jesus had spoken" rather than believing because of a miracle.
51 And as he was now going down, his servants met him, and told him, saying, Thy son liveth.
52 Then enquired he of them the hour when he began to amend. And they said unto him, Yesterday at the seventh hour the fever left him.
53 So the father knew that it was at the same hour, in the which Jesus said unto him, Thy son liveth: and himself believed, and his whole house.
54 This is again the second miracle that Jesus did, when he was come out of Judaea into Galilee.
Remember it was Israel that required a sign and Jesus told them a wicked and adulteress generation seeketh after a sign.
Today there are whole movements built around signs and wonders. That should make you think.
Whole households believed on Jesus in that day, but in verse forty-four Jesus tells us that in his own town and in his own home he was not accepted.
This problem is true today, often the wife of a pastor or missionary as well as his own children are his biggest opponents.
Did you see the key to answer our earlier question yet? It is underlined in the last verse of the chapter. Read it again and see if you can figure it out yourself.
This is the second miracle that Jesus did, when he was come out of Judaea into Galilee, It doesn't say it was the second miracle Jesus ever did, plus Matthew 4:23 talks about Jesus doing all kinds of miracles all over Galilee.
The miracle that Nicodemus talked about in chapter three were miracles that Jesus performed in Judaea, not Galilee.
Judaea and Galilee are separated by a land mass called Samaria. We call it the West Bank today, but it is roughly the same area. Galilee was not a city, it is the region in the north.
They all had to have happened after these two events in Samaria and Cana because Jesus second miracle just happened here in John.
Jesus went to the Samaritans before he forbids his apostles to go to them. Besides Jesus wasn't one of the twelve apostles anyway.
Prior to his command not to go to them they were to be reached by the Jews because salvation was still of the Jews.
See if you can trip up someone with this trivia question. It's tuff until you search it out.
---
Commentary by Matthew Henry, 1710.
Verse 1-3 – Jesus applied himself more to preaching, which was the more excellent, 1st Corinthians 1:17,. than to baptism. He would put honour upon his disciples, by employing them to baptize. He teaches us that the benefit of sacraments depends not on the hand that administers them.
Verse 4-26 – There was great hatred between the Samaritans and the Jews. Christ's road from Judea to Galilee lay through Samaria. We should not go into places of temptation but when we needs must; and then must not dwell in them, but hasten through them. We have here our Lord Jesus under the common fatigue of travellers. Thus we see that he was truly a man. Toil came in with sin; therefore Christ, having made himself a curse for us, submitted to it. Also, he was a poor man, and went all his journeys on foot. Being wearied, he sat thus on the well; he had no couch to rest upon. He sat thus, as people wearied with travelling sit. Surely, we ought readily to submit to be like the Son of God in such things as these. Christ asked a woman for water. She was surprised because he did not show the anger of his own nation against the Samaritans. Moderate men of all sides are men wondered at. Christ took the occasion to teach her Divine things: he converted this woman, by showing her ignorance and sinfulness, and her need of a Saviour. By this living water is meant the Spirit. Under this comparison the blessing of the Messiah had been promised in the Old Testament. The graces of the Spirit, and his comforts, satisfy the thirsting soul, that knows its own nature and necessity. What Jesus spake figuratively, she took literally. Christ shows that the water of Jacob's well yielded a very short satisfaction. Of whatever waters of comfort we drink, we shall thirst again. But whoever partakes of the Spirit of grace, and the comforts of the gospel, shall never want that which will abundantly satisfy his soul. Carnal hearts look no higher than carnal ends. Give it me, saith she, not that I may have everlasting life, which Christ proposed, but that I come not hither to draw. The carnal mind is very ingenious in shifting off convictions, and keeping them from fastening. But how closely our Lord Jesus brings home the conviction to her conscience! He severely reproved her present state of life. The woman acknowledged Christ to be a prophet. The power of his word in searching the heart, and convincing the conscience of secret things, is a proof of Divine authority. It should cool our contests, to think that the things we are striving about are passing away. The object of worship will continue still the same, God, as a Father; but an end shall be put to all differences about the place of worship. Reason teaches us to consult decency and convenience in the places of our worship; but religion gives no preference to one place above another, in respect of holiness and approval with God. The Jews were certainly in the right. Those who by the Scriptures have obtained some knowledge of God, know whom they worship. The word of salvation was of the Jews. It came to other nations through them. Christ justly preferred the Jewish worship before the Samaritan, yet here he speaks of the former as soon to be done away. God was about to be revealed as the Father of all believers in every nation. The spirit or the soul of man, as influenced by the Holy Spirit, must worship God, and have communion with him. Spiritual affections, as shown in fervent prayers, supplications, and thanksgivings, form the worship of an upright heart, in which God delights and is glorified. The woman was disposed to leave the matter undecided, till the coming of the Messiah. But Christ told her, I that speak to thee, am He. She was an alien and a hostile Samaritan, merely speaking to her was thought to disgrace our Lord Jesus. Yet to this woman did our Lord reveal himself more fully than as yet he had done to any of his disciples. No past sins can bar our acceptance with him, if we humble ourselves before him, believing in him as the Christ, the Saviour of the world.
Verse 27-42 – The disciples wondered that Christ talked thus with a Samaritan. Yet they knew it was for some good reason, and for some good end. Thus when particular difficulties occur in the word and providence of God, it is good to satisfy ourselves that all is well that Jesus Christ says and does. Two things affected the woman. The extent of his knowledge. Christ knows all the thoughts, words, and actions, of all the children of men. And the power of his word. He told her secret sins with power. She fastened upon that part of Christ's discourse, many would think she would have been most shy of repeating; but the knowledge of Christ, into which we are led by conviction of sin, is most likely to be sound and saving. They came to him: those who would know Christ, must meet him where he records his name. Our Master has left us an example, that we may learn to do the will of God as he did; with diligence, as those that make a business of it; with delight and pleasure in it. Christ compares his work to harvest-work. The harvest is appointed and looked for before it comes; so was the gospel. Harvest-time is busy time; all must be then at work. Harvest-time is a short time, and harvest-work must be done then, or not at all; so the time of the gospel is a season, which if once past, cannot be recalled. God sometimes uses very weak and unlikely instruments for beginning and carrying on a good work. Our Saviour, by teaching one poor woman, spread knowledge to a whole town. Blessed are those who are not offended at Christ. Those taught of God, are truly desirous to learn more. It adds much to the praise of our love to Christ and his word, if it conquers prejudices. Their faith grew. In the matter of it: they believed him to be the Saviour, not only of the Jews but of the world. In the certainty of it: we know that this is indeed the Christ. And in the ground of it, for we have heard him ourselves.
Verse 43-54 – The father was a nobleman, yet the son was sick. Honours and titles are no security from sickness and death. The greatest men must go themselves to God, must become beggars. The nobleman did not stop from his request till he prevailed. But at first he discovered the weakness of his faith in the power of Christ. It is hard to persuade ourselves that distance of time and place, are no hinderance to the knowledge, mercy, and power of our Lord Jesus. Christ gave an answer of peace. Christ's saying that the soul lives, makes it alive. The father went his way, which showed the sincerity of his faith. Being satisfied, he did not hurry home that night, but returned as one easy in his own mind. His servants met him with the news of the child's recovery. Good news will meet those that hope in God's word. Diligent comparing the works of Jesus with his word, will confirm our faith. And the bringing the cure to the family brought salvation to it. Thus an experience of the power of one word of Christ, may settle the authority of Christ in the soul. The whole family believed likewise. The miracle made Jesus dear to them. The knowledge of Christ still spreads through families, and men find health and salvation to their souls.