Outline
Christ taken in the garden. (Verse 1-12.)
Christ before Annas and Caiaphas. (Verse 13-27.)
Christ before Pilate. (Verse 28-40.)
---
1 When Jesus had spoken these words, he went forth with his disciples over the brook Cedron, where was a garden, into the which he entered, and his disciples.
[Matt 26:36]
"the brook Cedron" was a small stream on the east side of Jerusalem that separated the city from the Mount of Olives on which was the "garden" of Gethsemane.
2 And Judas also, which betrayed him, knew the place: for Jesus ofttimes resorted thither with his disciples.
3 Judas then, having received a band of men and officers from the chief priests and Pharisees, cometh thither with lanterns and torches and weapons.
[Matt 26:47, Mark 14:43, Luke 22:47, Acts 1:16]
4 Jesus therefore, knowing all things that should come upon him, went forth, and said unto them, Whom seek ye?
5 They answered him, Jesus of Nazareth. Jesus saith unto them, I am he. And Judas also, which betrayed him, stood with them.
"I am he" – compare with John 8:58.  A more complete record of how Judas identified Christ is found in Matthew 26:47-50 which says, "And while he yet spake, lo, Judas, one of the twelve, came, and with him a great multitude with swords and staves, from the chief priests and elders of the people. Now he that betrayed him gave them a sign, saying, Whomsoever I shall kiss, that same is he: hold him fast. And forthwith he came to Jesus, and said, Hail, master; and kissed him. And Jesus said unto him, Friend, wherefore art thou come? Then came they, and laid hands on Jesus, and took him."
6 As soon then as he had said unto them, I am he, they went backward, and fell to the ground.
Notice that the word he is in italics which means it is supplied to help give understanding, but if we left it off as Jesus did when he spoke on that night of betrayal, I believe you get more out of it.
That's because Jesus used the title that God used when he spoke unto Moses from the burning bush, I AM. That is why they fell to the ground, they were standing in the presence of God Almighty and he was displaying that for all ages to see that would read John's gospel.
7 Then asked he them again, Whom seek ye? And they said, Jesus of Nazareth.
8 Jesus answered, I have told you that I am he: if therefore ye seek me, let these go their way:
9 That the saying might be fulfilled, which he spake, Of them which thou gavest me have I lost none.
"saying might be fulfilled" – compare with John 17:12
10 Then Simon Peter having a sword drew it, and smote the high priest's servant, and cut off his right ear. The servant's name was Malchus.
[Matt 26:51]
11 Then said Jesus unto Peter, Put up thy sword into the sheath: the cup which my Father hath given me, shall I not drink it?
[Matt 20:22, Matt 26:39, Mark 14:36]
additional facts regarding this event are found in Luke 22:50-51, which says, "And one of them smote the servant of the high priest, and cut off his right ear. And Jesus answered and said, Suffer ye thus far. And he touched his ear, and healed him."
   There goes Peter again before he thinks it through or gets any instruction from his master.  Jesus used this opportunity to heal Malchus, the high priests servant, which I am almost positive that that had a profound impact upon Malchus, and it probably led to his getting saved.
12 Then the band and the captain and officers of the Jews took Jesus, and bound him,
13 And led him away to Annas first; for he was father in law to Caiaphas, which was the high priest that same year.
14 Now Caiaphas was he, which gave counsel to the Jews, that it was expedient that one man should die for the people.
compare with John 11:47-50
15 And Simon Peter followed Jesus, and so did another disciple: that disciple was known unto the high priest, and went in with Jesus into the palace of the high priest.
"another disciple" – probably the Apostle John
16 But Peter stood at the door without. Then went out that other disciple, which was known unto the high priest, and spake unto her that kept the door, and brought in Peter.
17 Then saith the damsel that kept the door unto Peter, Art not thou also one of this man's disciples? He saith, I am not.
18 And the servants and officers stood there, who had made a fire of coals; for it was cold: and they warmed themselves: and Peter stood with them, and warmed himself.
Right there in front of the writer of the gospel of John stood Peter denying he knew Christ, John was not asked because he was not as outspoken and easily identifiable as Peter was, plus John was acquainted with the high priest so no one expected he was a follower of Jesus.
Notice that John is the person with Peter, but he never mentions his name directly mostly I believe out of shame for his not saying anything in Christ's defense and for later running away.
19 The high priest then asked Jesus of his disciples, and of his doctrine.
20 Jesus answered him, I spake openly to the world; I ever taught in the synagogue, and in the temple, whither the Jews always resort; and in secret have I said nothing.
21 Why askest thou me? ask them which heard me, what I have said unto them: behold, they know what I said.
22 And when he had thus spoken, one of the officers which stood by struck Jesus with the palm of his hand, saying, Answerest thou the high priest so?
Christ being smitten upon the cheek appears to be the fulfilment of two Old Testament scriptures: 1) Job 16:10 – "They have gaped upon me with their mouth; they have smitten me upon the cheek reproachfully; they have gathered themselves together against me."  2) Lamentations 3:30 – "He giveth his cheek to him that smiteth him: he is filled full with reproach."
23 Jesus answered him, If I have spoken evil, bear witness of the evil: but if well, why smitest thou me?
I wonder what thoughts must have gone through this officer's mind in the days and years that followed for striking his very Creator.
Did he ever come to accept Christ? We shall see, I do know that God was willing to forgive him even before the world began.
24 Now Annas had sent him bound unto Caiaphas the high priest.
25 And Simon Peter stood and warmed himself. They said therefore unto him, Art not thou also one of his disciples? He denied it, and said, I am not.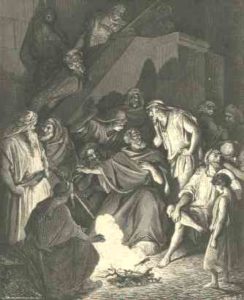 26 One of the servants of the high priest, being his kinsman whose ear Peter cut off, saith, Did not I see thee in the garden with him?
27 Peter then denied again: and immediately the cock crew.
The movies have tried to do this moment justice, but I don't think they ever could, how Peter must have felt after he had denied Christ for the third time after he had boasted amongst his companions that even though everyone else denies him, Peter wouldn't and now it had happened.
The cock had crowed as a reminder to Peter of Jesus' words to him earlier that night. Peter had done what only a few hours ago he thought was impossible.
You may find yourself in a similar set of circumstances one day in your life to. Before it happens and when it happens I recommend prayer for strength over boasting every time.
28 Then led they Jesus from Caiaphas unto the hall of judgment: and it was early; and they themselves went not into the judgment hall, lest they should be defiled; but that they might eat the passover.
[Matt 27:2, Mark 15:1, Luke 23:1, Acts 3:13]
the "judgment hall" was a Roman government building – these chief priests and Pharisees did not want to enter into the building because it would ceremonially defile them, making them ineligible to eat the Passover meal.  The hypocrisy of all of this should be evident as these men were worried about ceremonial defilement while not being the least bit concerned about murdering the Son of God.
These were Jews that had to follow many rules about cleansing prior to celebrating the feasts of Israel and they could not go into the judgment hall filled with all the Gentile pagan idols or they would be unclean for the feast.
29 Pilate then went out unto them, and said, What accusation bring ye against this man?
"Pilate" – Pontius Pilate was the Roman governor over the Jewish lands according to Matthew 27:2.
   Notice that they do not answer Pilate's question, they evade telling him any accusation against him because they know they don't have a good case against Jesus. They wanted Pilate to give into mob rule. Pilate was on to them though:
30 They answered and said unto him, If he were not a malefactor, we would not have delivered him up unto thee.
[malefactor – a criminal]
31 Then said Pilate unto them, Take ye him, and judge him according to your law. The Jews therefore said unto him, It is not lawful for us to put any man to death:
though the OT law gave the Jews the authority to kill criminals for certain crimes (see 8:5), Israel had been conquered by the Romans and were therefore subject to their laws.  No Jewish criminal could be put to death without the Roman government's approval.
32 That the saying of Jesus might be fulfilled, which he spake, signifying what death he should die.
the Jews killed their criminals by stoning; yet Jesus said he would die by crucifixion (see 3:14)  – the Roman form of execution.
33 Then Pilate entered into the judgment hall again, and called Jesus, and said unto him, Art thou the King of the Jews?
[Matt 27:11, Mark 15:2, Luke 23:3, 1st Tim 6:13]
34 Jesus answered him, Sayest thou this thing of thyself, or did others tell it thee of me?
35 Pilate answered, Am I a Jew? Thine own nation and the chief priests have delivered thee unto me: what hast thou done?
Pilate now asks his prisoner what have you done? Why are we holding you? What crime have you done that is worthy of death?
The incarcerators are not supposed to be able to incarcerate people if they do not know the reason they are incarcerating them.
Roman law was very clear that a person must stand before his accusers and hear their accusations and be able to defend themselves against them, but none of this is going on here.
36 Jesus answered, My kingdom is not of this world: if my kingdom were of this world, then would my servants fight, that I should not be delivered to the Jews: but now is my kingdom not from hence.
37 Pilate therefore said unto him, Art thou a king then? Jesus answered, Thou sayest that I am a king. To this end was I born, and for this cause came I into the world, that I should bear witness unto the truth. Every one that is of the truth heareth my voice.
38 Pilate saith unto him, What is truth? And when he had said this, he went out again unto the Jews, and saith unto them, I find in him no fault at all.
Jesus said in John 14:6 I am the way, the truth and the life, no man cometh unto the Father but by me. That is truth in a nutshell.
What is the law if a man is found with no fault in him? He should be released immediately. That is not what happened.
39 But ye have a custom, that I should release unto you one at the passover: will ye therefore that I release unto you the King of the Jews?
[Matt 27:15, Mark 15:6, Luke 23:17]
to appease the Jews, the Roman government released one famous, Jewish prisoner every year at the Passover feast.
40 Then cried they all again, saying, Not this man, but Barabbas. Now Barabbas was a robber.
[Matt 27:20, Mark 15:11, Luke 23:18, Acts 3:14]
Pilate is referring to the custom of the Scapegoat, which is based on a scriptural practice of releasing a guilty goat and punishing the innocent goat found in Leviticus 16.
---
Commentary by Matthew Henry, 1710.
Verse 1-12 – Sin began in the garden of Eden, there the curse was pronounced, there the Redeemer was promised; and in a garden that promised Seed entered into conflict with the old serpent. Christ was buried also in a garden. Let us, when we walk in our gardens, take occasion from thence to mediate on Christ's sufferings in a garden. Our Lord Jesus, knowing all things that should come upon him, went forth and asked, Whom seek ye? When the people would have forced him to a crown, he withdrew, ch.
,
Verse 6:15,. – , but when they came to force him to a cross, he offered himself; for he came into this world to suffer, and went to the other world to reign. He showed plainly what he could have done; when he struck them down he could have struck them dead, but he would not do so. It must have been the effect of Divine power, that the officers and soldiers let the disciples go away quietly, after the resistance which had been offered. Christ set us an example of meekness in sufferings, and a pattern of submission to God's will in every thing that concerns us. It is but a cup, a small matter. It is a cup that is given us; sufferings are gifts. It is given us by a Father, who has a father's authority, and does us no wrong; a father's affection, and means us no hurt. From the example of our Saviour we should learn how to receive our lighter afflictions, and to ask ourselves whether we ought to oppose our Father's will, or to distrust his love. We were bound with the cords of our iniquities, with the yoke of our transgressions. Christ, being made a sin-offering for us, to free us from those bonds, himself submitted to be bound for us. To his bonds we owe our liberty; thus the Son makes us free.
Verse 13-27 – Simon Peter denied his Master. The particulars have been noticed in the remarks on the other Gospels. The beginning of sin is as the letting forth of water. The sin of lying is a fruitful sin; one lie needs another to support it, and that another. If a call to expose ourselves to danger be clear, we may hope God will enable us to honour him; if it be not, we may fear that God will leave us to shame ourselves. They said nothing concerning the miracles of Jesus, by which he had done so much good, and which proved his doctrine. Thus the enemies of Christ, whilst they quarrel with his truth, wilfully shut their eyes against it. He appeals to those who heard him. The doctrine of Christ may safely appeal to all that know it, and those who judge in truth bear witness to it. Our resentment of injuries must never be passionate. He reasoned with the man that did him the injury, and so may we.
Verse 28-32 – It was unjust to put one to death who had done so much good, therefore the Jews were willing to save themselves from reproach. Many fear the scandal of an ill thing, more than the sin of it. Christ had said he should be delivered to the Gentiles, and they should put him to death; hereby that saying was fulfilled. He had said that he should be crucified, lifted up. If the Jews had judged him by their law, he had been stoned; crucifying never was used among the Jews. It is determined concerning us, though not discovered to us, what death we shall die: this should free us from disquiet about that matter. Lord, what, when, and how, thou hast appointed.
Verse 33-40 – Art thou the King of the Jews? that King of the Jews who has been so long expected? Messiah the Prince; art thou he? Dost thou call thyself so, and wouldest thou be thought so? Christ answered this question with another; not for evasion, but that Pilate might consider what he did. He never took upon him any earthly power, never were any traitorous principles or practices laid to him. Christ gave an account of the nature of his kingdom. Its nature is not worldly; it is a kingdom within men, set up in their hearts and consciences; its riches spiritual, its power spiritual, and it glory within. Its supports are not worldly; its weapons are spiritual; it needed not, nor used, force to maintain and advance it, nor opposed any kingdom but that of sin and Satan. Its object and design are not worldly. When Christ said, I am the Truth, he said, in effect, I am a King. He conquers by the convincing evidence of truth; he rules by the commanding power of truth. The subjects of this kingdom are those that are of the truth. Pilate put a good question, he said, What is truth? When we search the Scriptures, and attend the ministry of the word, it must be with this inquiry, What is truth? and with this prayer, Lead me in thy truth; into all truth. But many put this question, who have not patience to preserve in their search after truth; or not humility enough to receive it. By this solemn declaration of Christ's innocence, it appears, that though the Lord Jesus was treated as the worst of evil-doers, he never deserved such treatment. But it unfolds the design of his death; that he died as a Sacrifice for our sins. Pilate was willing to please all sides; and was governed more by worldly wisdom than by the rules of justice. Sin is a robber, yet is foolishly chosen by many rather than Christ, who would truly enrich us. Let us endeavour to make our accusers ashamed as Christ did; and let us beware of crucifying Christ afresh.