Outline
Joseph is loved of Jacob, but hated by his brethren. (Verse 1-4.)
Joseph's dreams. (Verse 5-11.)
Jacob sends Joseph to visit his brethren, They conspire his death. (Verse 12-22.)
Joseph's brethren sell him. (Verse 23-10.)
Jacob deceived, Joseph sold to Potiphar. (Verse 31-36.)
---
Nothing is said about Joseph in his childhood which is also true of the Messiah. As we have jumped six chapters we need to realize we are no longer in Haran but rather sixteen years inside the Promise Land.  If you think the first few years of Israel's (Jacob's) life as a father of twelve boys was wild sit back and hold on because you haven't seen anything yet.
1 And Jacob dwelt in the land wherein his father was a stranger, in the land of Canaan.
2 These are the generations of Jacob. Joseph, being seventeen years old, was feeding the flock with his brethren; and the lad was with the sons of Bilhah, and with the sons of Zilpah, his father's wives: and Joseph brought unto his father their evil report.
There is a name which is missing from these verses and it is Leah, it appears that her children were not present with Joseph on this day.
Joseph did as he should have in telling his father of their evil report which was for their own families good as they were all older than Joseph and providing for their own families.
3 Now Israel loved Joseph more than all his children, because he was the son of his old age: and he made him a coat of many colours.
[Judges 5:30, 2nd Samuel 13:18, Psalms 45:14]
[many colors – a sign of royalty or dominance]
Benjamin has not yet been born and Jacob is still alive; chapters 37 and beyond are looking back in time before chapter 35
4 And when his brethren saw that their father loved him more than all his brethren, they hated him, and could not speak peaceably unto him.
Scripture records that Jacob loved Joseph more than his brethren because he was the son of his old age, but he had another plus going for him that no doubt endeared him to his father and that is that he is the first son of his favorite wife Rachel.
Joseph was beloved of father just as the Son of God was beloved of his Father.   Jesus was also despised of men and acquainted with grief.
5 And Joseph dreamed a dream, and he told it his brethren: and they hated him yet the more.
[Gen 42:9]
6 And he said unto them, Hear, I pray you, this dream which I have dreamed:
7 For, behold, we were binding sheaves in the field, and, lo, my sheaf arose, and also stood upright; and, behold, your sheaves stood round about, and made obeisance to my sheaf.
[Gen 42:6, Gen 43:26, Gen 44:14]
8 And his brethren said to him, Shalt thou indeed reign over us? or shalt thou indeed have dominion over us? And they hated him yet the more for his dreams, and for his words.
[Gen 27:41]
this dream is fulfilled literally in Gen 44:14
Noticed that God gave Joseph a dream that concerned his brethren and he immediately told the contents to them with no regard for his own well-being as the dream obviously would upset them and bring about their wrath.
Jesus told a parable to Israel concerning himself that was very similar: Luke 19:14 But his citizens hated him, and sent a message after him, saying, we will not have this man to reign over us.
9 And he dreamed yet another dream, and told it his brethren, and said, Behold, I have dreamed a dream more; and, behold, the sun and the moon and the eleven stars made obeisance to me.
[Rev 12:1]
10 And he told it to his father, and to his brethren: and his father rebuked him, and said unto him, What is this dream that thou hast dreamed? Shall I and thy mother and thy brethren indeed come to bow down ourselves to thee to the earth?
11 And his brethren envied him; but his father observed the saying.
[Gen 26:14, Eccl 4:4]
This dream fulfilled in Joseph as a type of Jesus Christ – [Psalm 2:6,9] [Philippians 2:6-12]
Joseph has a second dream and instead of staying quiet for even more reasons than earlier, reasons that included angering his parents, he tells the dream and suffers even more hatred from his brothers.
Just as his family did all bow to him one day so also will the world bow to the Messiah as recorded in Philippians 2:11 And that every tongue should confess that Jesus Christ is Lord, to the glory of God the Father.
12 And his brethren went to feed their father's flock in Shechem.
13 And Israel said unto Joseph, Do not thy brethren feed the flock in Shechem? come, and I will send thee unto them. And he said to him, Here am I.
14 And he said to him, Go, I pray thee, see whether it be well with thy brethren, and well with the flocks; and bring me word again. So he sent him out of the vale of Hebron, and he came to Shechem.
15 And a certain man found him, and, behold, he was wandering in the field: and the man asked him, saying, What seekest thou?
16 And he said, I seek my brethren: tell me, I pray thee, where they feed their flocks.
17 And the man said, They are departed hence; for I heard them say, Let us go to Dothan. And Joseph went after his brethren, and found them in Dothan.
[2nd Kings 6:13]
Joseph had a job to do and he went about doing it without complaint not knowing his brother's evil intentions should he show up again. Jesus went unto his own brethren and they did not receive him.
John 1:11 He came unto his own, and his own received him not.
18 And when they saw him afar off, even before he came near unto them, they conspired against him to slay him.
[1st Sam 19:1, Psa 31:13, Psa 94:21, Matt 27:1, Acts 23:12]
19 And they said one to another, Behold, this dreamer cometh.
20 Come now therefore, and let us slay him, and cast him into some pit, and we will say, Some evil beast hath devoured him: and we shall see what will become of his dreams.
Jesus foretold in this parable that the religious leaders would conspire to have him killed so the people would return to their leadership:
21 And Reuben heard it, and he delivered him out of their hands; and said, Let us not kill him.
[Gen 42:22]
Thank the Lord that Reuben who would have been held personally accountable for Joseph's death delivered Joseph from his brothers, but no one could deliver the Messiah from the sufferings that were predicted for him. The Messiah would come unto his own and his own would not receive him according to the Prophet Isaiah:
Isaiah 53:1 Who hath believed our report? And to whom is the arm of the Lord revealed? 2 For he shall grow up before him as a tender plant, and as a root out of a dry ground: he hath no form nor comeliness; and when we shall see him, there is no beauty that we should desire him. 3 He is despised and rejected of men; a man of sorrows, and acquainted with grief: and we hid as it were our faces from him; he was despised and we esteemed him not.
How can people not see their Messiah as he is all over their own scriptures?  They are blinded in part. We must reach them before it is too late.  Israel and her leaders cried, crucify him, but others sought his release.
22 And Reuben said unto them, Shed no blood, but cast him into this pit that is in the wilderness, and lay no hand upon him; that he might rid him out of their hands, to deliver him to his father again.
23 And it came to pass, when Joseph was come unto his brethren, that they stript Joseph out of his coat, his coat of many colours that was on him;
24 And they took him, and cast him into a pit: and the pit was empty, there was no water in it.
[pit = well or cistern]
Joseph begged for mercy while in this pit – [Gen 42:21]
Joseph came to his own, and his own received him not.
25 And they sat down to eat bread: and they lifted up their eyes and looked, and, behold, a company of Ishmeelites came from Gilead with their camels bearing spicery and balm and myrrh, going to carry it down to Egypt.
[Ishmeelites – Arabs descended from Ishmael, Abraham's first son]
26 And Judah said unto his brethren, What profit is it if we slay our brother, and conceal his blood?
27 Come, and let us sell him to the Ishmeelites, and let not our hand be upon him; for he is our brother and our flesh. And his brethren were content.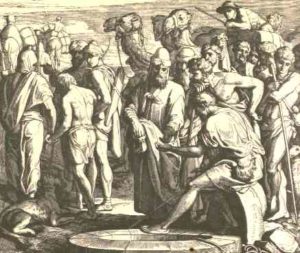 28 Then there passed by Midianites merchantmen; and they drew and lifted up Joseph out of the pit, and sold Joseph to the Ishmeelites for twenty pieces of silver: and they brought Joseph into Egypt.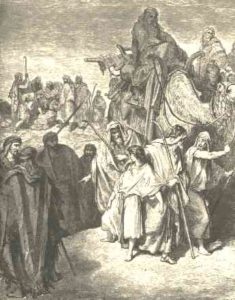 29 And Reuben returned unto the pit; and, behold, Joseph was not in the pit; and he rent his clothes.
30 And he returned unto his brethren, and said, The child is not; and I, whither shall I go?
[Gen 42:13, Gen 44:20, Lamentations 5:7]
Here we see Joseph as a type of Christ being betrayed by his own brothers for twenty pieces of silver. Is there any portion of scripture that would allude to the Messiah being betrayed by his own? Yes!   The Messiah, as Joseph, also had his garment taken from him prior to his death as foreseen by the Psalmist David:
Psalm 22:18 They part my garments among them, and cast lots upon my vesture.
Zechariah 11:12 And I said unto them, If ye think good, give me my price; and if not, forbear. So they weighed for my price thirty pieces of silver. 13 And the Lord said unto me, Cast it unto the potter: a goodly price that I was prized at of them. And I took the thirty pieces of silver, and cast them to the potter in the house of the Lord.
31 And they took Joseph's coat, and killed a kid of the goats, and dipped the coat in the blood;
32 And they sent the coat of many colours, and they brought it to their father; and said, This have we found: know now whether it be thy son's coat or no.
33 And he knew it, and said, It is my son's coat; an evil beast hath devoured him; Joseph is without doubt rent in pieces.
34 And Jacob rent his clothes, and put sackcloth upon his loins, and mourned for his son many days.
[rent – to tear]
Both Joseph and Jesus' garments were stained with blood! Just as Jacob rent his clothes at the news off his son's alleged death, so God rent the veil in His temple in Jerusalem in great mourning for His Son.
35 And all his sons and all his daughters rose up to comfort him; but he refused to be comforted; and he said, For I will go down into the grave unto my son mourning. Thus his father wept for him.
[2nd Sam 12:17]
36 And the Midianites sold him into Egypt unto Potiphar, an officer of Pharaoh's, and captain of the guard.
Ask yourself, "How could these brothers do this to their father?" and then ask yourself, "How could a nation do the same thing to their Heavenly Father in the rejection of his son the Messiah?
Jesus died for the sins of the entire world and Joseph in type goes down to Egypt, a type of the world in scripture, to redeem them and eventually his own people after they are provoked to jealousy in seeing that God has blessed the Gentile world with grain.
---
Commentary by Matthew Henry, 1710.
Verse 1-4 – In Joseph's history we see something of Christ, who was first humbled and then exalted. It also shows the lot of Christians, who must through many tribulations enter into the kingdom. It is a history that has none like it, for displaying the various workings of the human mind, both good and bad, and the singular providence of God in making use of them for fulfilling his purposes. Though Joseph was his father's darling, yet he was not bred up in idleness. Those do not truly love their children, who do not use them to business, and labour, and hardships. The fondling of children is with good reason called the spoiling of them. Those who are trained up to do nothing, are likely to be good for nothing. But Jacob made known his love, by dressing Joseph finer than the rest of his children. It is wrong for parents to make a difference between one child and another, unless there is great cause for it, by the children's dutifulness, or undutifulness. When parents make a difference, children soon notice it, and it leads to quarrels in families. Jacob's sons did that, when they were from under his eye, which they durst not have done at home with him; but Joseph gave his father an account of their ill conduct, that he might restrain them. Not as a tale-bearer, to sow discord, but as a faithful brother.
Verse 5-11 – God gave Joseph betimes the prospect of his advancement, to support and comfort him under his long and grievous troubles. Observe, Joseph dreamed of his preferment, but he did not dream of his imprisonment. Thus many young people, when setting out in the world, think of nothing but prosperity and pleasure, and never dream of trouble. His brethren rightly interpreted the dream, though they abhorred the interpretation of it. While they committed crimes in order to defeat it, they were themselves the instruments of accomplishing it. Thus the Jews understood what Christ said of his kingdom. Determined that he should not reign over them, they consulted to put him to death; and by his crucifixion, made way for the exaltation they designed to prevent.
Verse 12-22 – How readily does Joseph wait his father's orders! Those children who are best beloved by their parents, should be the most ready to obey them. See how deliberate Joseph's brethren were against him. They thought to slay him from malice aforethought, and in cold blood. Whosoever hateth his brother is a murderer, 1st John 3:15. The sons of Jacob hated their brother because their father loved him. New occasions, as his dreams and the like, drew them on further; but this laid rankling in their hearts, till they resolved on his death. God has all hearts in his hands. Reuben had most reason to be jealous of Joseph, for he was the first-born; yet he proves his best friend. God overruled all to serve his own purpose, of making Joseph an instrument to save much people alive. Joseph was a type of Christ; for though he was the beloved Son of his Father, and hated by a wicked world, yet the Father sent him out of his bosom to visit us in great humility and love. He came from heaven to earth to seek and save us; yet then malicious plots were laid against him. His own not only received him not, but crucified him. This he submitted to, as a part of his design to redeem and save us.
Verse 23-30 – They threw Joseph into a pit, to perish there with hunger and cold; so cruel were their tender mercies. They slighted him when he was in distress, and were not grieved for the affliction of Joseph, see Amos 6:6. for when he was pining in the pit, they sat down to eat bread. They felt no remorse of conscience for the sin. But the wrath of man shall praise God, and the remainder of wrath he will restrain, Psalms 76:10. Joseph's brethren were wonderfully restrained from murdering him, and their selling him as wonderfully turned to God's praise.
Verse 31-36 – When Satan has taught men to commit one sin, he teaches them to try to conceal it with another; to hide theft and murder, with lying and false oaths: but he that covers his sin shall not prosper long. Joseph's brethren kept their own and one another's counsel for some time; but their villany came to light at last, and it is here published to the world. To grieve their father, they sent him Joseph's coat of colours; and he hastily thought, on seeing the bloody coat, that Joseph was rent in pieces. Let those that know the heart of a parent, suppose the agony of poor Jacob. His sons basely pretended to comfort him, but miserable, hypocritical comforters were they all. Had they really desired to comfort him, they might at once have done it, by telling the truth. The heart is strangely hardened by the deceitfulness of sin. Jacob refused to be comforted. Great affection to any creature prepares for so much the greater affliction, when it is taken from us, or made bitter to us: undue love commonly ends in undue grief. It is the wisdom of parents not to bring up children delicately, they know not to what hardships they may be brought before they die. From the whole of this chapter we see with wonder the ways of Providence. The malignant brothers seem to have gotten their ends; the merchants, who care not what they deal in so that they gain, have also obtained theirs; and Potiphar, having got a fine young slave, has obtained his! But God's designs are, by these means, in train for execution. This event shall end in Israel's going down to Egypt; that ends in their deliverance by Moses; that in setting up the true religion in the world; and that in the spread of it among all nations by the gospel. Thus the wrath of man shall praise the Lord, and the remainder thereof will he restrain.